It's time.
Time to make aged care accountable.
Accountable to who?
To citizens and their communities
---
The Accountability Report directly challenges and refutes claims made by the Australian Aged Care Collaboration (AACC) in its report and its campaign.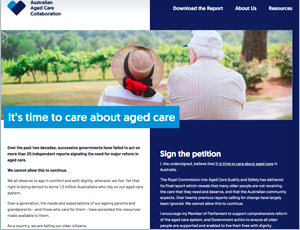 It describes the difference between market and community-led systems then briefly explains the claims made in the AACC report and their denial of culpability.
It describes the extensive involvement of the industry with government in every step of the development of this system. This was their system and nothing was done without their approval. They supported all of the reforms that did not work and failed us all.
Unhappiness in the workplace: The page then describes how the different approach by an industry-led aged care service creates cultural conflicts that lead to unhappiness among staff and so poor care.
Provider types and the AACC: The report describes the different types of providers and the organisations that have formed to represent them. It describes the way that religious and charitable providers responded and adapted to a market-led system and competition from those who were there to make a profit. It shows how much they have changed aas they adopted the same patterns of thought..
It describes how industry group ACSA and the religious providers have now become the public face of the AACC.
Learn more: Please read our

Accountability Report269.65 KB which challenges the AACC by holding the industry to account.